Could Plessy v Ferguson be returned? Could Brown v Board be overturned?
The answer to both is ...yes!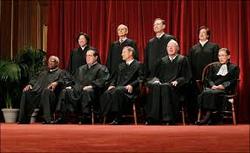 Plessy v. Ferguson
Brown v. Board of Education
The Right Wing mantra...they killed the dreamer, now the dream?
The Civil Rights Act of 1964...
Federal Laws from the Supreme Court were absolutely necessary when states continued to abuse and oppress its black population via local decrees..which means in essence that this past oppressive resolve could rear its ugly head in the future.
Those who forget or seek to deny the past...are bound to repeat the devastation.