Justice is truth and the truth will set you free!
Minus the "typo"...they're nation builders.
One nation under God...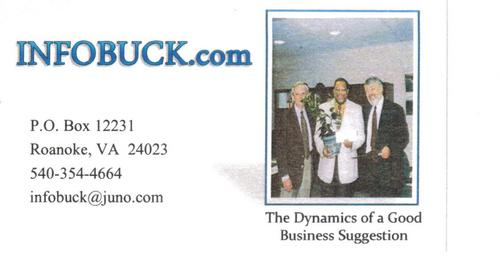 ...but secure them with our exclusive Z-Track protective paradigm. The websites "The Roanoke Tribune.com" and "INFOBUCK.com" are exclusively owned by Bobby Buck and solely responsible by same.
You can "unsubscribe" or send comments/criticisms directly to infobuck.com@juno.com. Thanks for your cooperation.
Don't ask God to do for you, that which you can do for yourself...
We saw recently in Ferguson, MO what happens when a community does not control its destiny, and outrage erupts when an incident brings the sitution to a tipping point. Ferguson's problems began long ago when a majority of the black community refused to simply "vote" for those that would govern with needed concern and thus simply relinquished their progress for a better community.
I saw this in my former home town in Mobile, where the former mayor, who happens to be black was not supported by the black community at the polls, and thus lost the position to a guy who happens to be white, claiming he's going to do for the city and the electorate what the former mayor was not...which was not the case, for the former mayor, of whom I know personally, was quite competent in his goals and aspirations. This was simply a case of racial politics, and black folks sat on their asses and let happen.
In Prichard, AL just outside of Mobile, virtually an all black hamlet, you have incompetent black folks in office and can't seem to find solutions to their community problems for one reason or another. The senator for the district says she's at wit's end and asks "God" to intercede. She's hardworking and sincere, but I believe they are going to have to solve this with elbow grease and common sense...or continue to suffer the consequences of inaction.